Roll of Honour
---
---
Honorary Membership of DECHEMA
Honorary Membership is the highest award of the DECHEMA. The Board of Directors can grant Honorary Membership to outstanding supporters of chemical Equipment manufacture, chemical engineering and biotechnology or ot the society itself.
Honorary membership was last awarded to
Dipl.-Kfm. Heinz-joachim wagner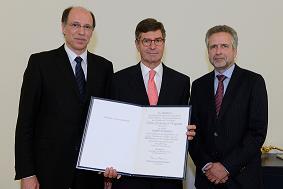 from left: Prof. Dr. Rainer Diercks, Heinz-Joachim Wagner, Prof. Dr. Kurt Wagemann,
up
---
DECHEMA Prize of the Max Buchner Research Foundation
This prize is awarded for outstanding, published research in the fields of applied chemistry, process engineering, biotechnology and chemical apparatus. Preference is given to younger scientists whose work is fundamentally important and successfully combines theory with practical application.
The DECHEMA Prize 2014 was conferred on November 28, 2014 on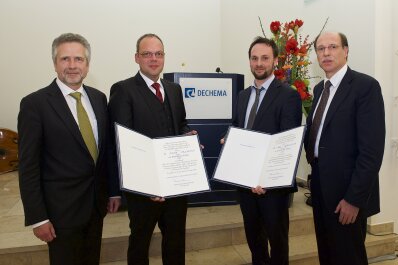 Dr. FRANk Hollmann, Delft
for his pathbreaking work on the development of environmental friendly light- and electricity-driven enzymatical redox processes for organic synthesis
and on

Dr. Karl Mayrhofer, DUsseldorf
for his pathbreaking work on the analytics and development of corrosion-resistant electro-catalysts for energy conversion systems
DECHEMA prize-winners since 1951

Guidelines for the DECHEMA Prize (pdf-File)
up
---
DECHEMA Student Awards
Die The DECHEMA student awards are granted anually to graduates in Technical Chemistry, Chemical Process Engineering and Biotechnology. Only graduates who distinguish themselves by completing their studies in a particular short time and achieving outstanding results are eligible. This award was established by the Board of DECHEMA in 1993 as a contribution towards increasing efficiency at German universities.
The awards include all expenses of the following: two year membership of DECHEMA, invitation to the award-winners' colloquium of the Max-Buchner-Forschungsstiftung with gala evening, invitation to two conferences organized by DECHEMA in Germany or abroad, including travel costs.
The 2011 award-winners are:
Technical Chemistry:
Dipl.-Chem. Björn Reinhardt, Universität Leipzig
M.Sc. Claudia Hoffmann, TU Dresden
Dipl.-Chem. Jan-Hendrik Redmann, Universität Hamburg
Chemical Process Engineering / Chemical Engineering:
Dipl.-Ing. Anna Christina Schuch, Karlsruher Institut für Technologie - KIT
Biotechnology:
Dipl.-Ing. Ilka Wagner, TU Berlin
up
---
DECHEMA Polytechnic Awards
The DECHEMA Polytechnic Awards are presented anually for the best diploma, master's and bachelor's theses in Technical Chemistry and Biotechnology at polytechnics and comprehensive universities.
The assessment criteria are: the conversion of basic engineering theory into industrial applications, experimental skill and the interpretation of results. The award is worth Euro 500. This Prize has been awarded since 1990; the decision lies with the Administrative Committee of the Foundation. Professors have the right to make recommendations.
The Prizewinners of 2010 are:
Monika Christ, Provadis (Bachelor's Thesis)
Bewertung der Wiedergabegenauigkeit und des Einflusses der Stoffdaten bei der rechnerischen Auslegung von Entlastungsquerschnitten von Chemiereaktoren
Kerstin Malzahn, FH Oldenburg Ostfriesland, Wilhelmshaven (Bachelor's Thesis)
Development of an alcohol gas biosensor

Thorsten Jamrath, Beuth Hochschule für Technik, (Master's Thesis)
Gewinnung von Hydrolasen aus Abfällen der Lebensmittelindustrie

Nico Andreas, Beuth Hochschule für Technik (Master's Thesis)
Untersuchung der Regulation der Zytokinproduktion von IL-5 in Th2-Lymphozyten

Mario Gloeck, Hochschule Esslingen (Diploma Thesis)
Development of a cortisol ELISA to study stress response in zebrafish

Robert Krahofer, Hochschule Fresenius (Diploma Thesis)
Mass spectrometric study of organosilyl derivatized compounds of biological interest

Nina Meißler, nta Hochschule Isny (Diploma Thesis)
Entwicklung eines Doppel-Antigen-Sandwich-ELISA zur Messung von Autoantikörpern gegen das Tumor Suppressor Protein p53
up
---
DECHEMA Medal
The DECHEMA-Medal is awarded for outstanding achievements in the field of chemical apparatus technology. It was established in 1951 to celebrate the 25th aniversary of the DECHMA.
The DECHEMA Medal was last awarded in February2014 to:
Prof. Reinahrd Zellner (l.)
up
---
DECHEMA Plaque in Titanium
This plaque was first awarded during the 1999 DECHEMA Annual Meetings in Wiesbaden. It was initiated to honour outstanding commitment to the work of the research committees or to other DECHEMA activities and will be presented during the DECHEMA Annual Meetings.
In 2012 this distinction was conferred on: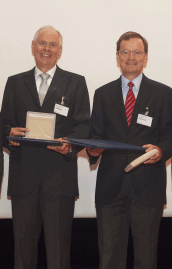 Dr. Jochen Rudolph, Dossenheim (l.) and
Dr. Ulrich Behrendt, München

up
---
ACHEMA Plaque in Titanium
The ACHEMA Plaque in Titanium is awarded in recognition of distinguished services to ACHEMA and DECHEMA. The award was instituted to celebrate the fiftieth anniversary of the ACHEMA in 1970 and first Conferres at the ACHEMA 1973.
On June 1, 2010 during the opening session of the ACHEMASIA in Beijing / VR China the ACHEMA Plaque in Titanium was awarded to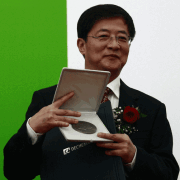 Ren Jianxin, President of ChemChina
up
---
ACHEMA Media Prize
The ACHEMA Media Prize is awarded every three years to the author of a German journalistic documentary on a topic from the fields of chemical engineering, biotechnology, chemistry or environmental protection. The selection criteria also include popular appeal and interesting presentation.
In 2012 was this Prize awarded to
Jan rähm
as author of the radio-documentation "Ist das Gold oder kann das weg?".
up
---
Alwin Mittasch Prize
The Alwin Mittasch Prize was founded by BASF as the Alwin Mittasch Medal in 1990. It is awarded for work in the field of catalysis, concerning either advances in basic research or successful application in industry. Since 2006 it is awarded on an international level, now as the Alwin Mittasch Prize.
In 2015 the Medal was awarded to
Prof. Dr. Robert Schlögl, Berlin

| | | |
| --- | --- | --- |
| | | |
| Prof. Martin Muhler, Chairman GeCatS, Prof. Robert Schlögl, Dr. Dirk Demuth, BASF SE, Prof. Kurt Wagemann, DECHEMA e.V, (from left) | | |
Alwin Mittasch Prize Awardees since 1990
up
---
Willy Hager Medal
The Willy Hager Medal is awarded jointly by DECHEMA and the Water Chemistry Division of the Gesellschaft Deutscher Chemiker (German Chemical Society) on behalf of the Willy Hager Foundation. The prize is awarded every three years to scientists who have made an outstanding theoretical und practical contribution to water and waste water treatment.
In 2013 the medal was awarded to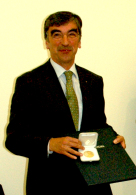 Prof. Dr.-Ing. Peter cornel, Darmstadt
up
---
Willy Hager Prize
The Willy Hager Prize was founded by the Willy Hager Foundation and is awarded every year jointly by DECHEMA and the Water Chemistry Division of the Gesellschaft Deutscher Chemiker (German Chemical Society). The Prize is awarded for outstanding work in the field of water and waste water treatment by young university scientists.
For 2012 this prize was conferred on:
Dr.-Ing. Thomas riethmann, stuttgart / Germany
up
---
Hellmuth Fischer Medal
The DECHEMA awards the Hellmuth Fischer Medal preferably to younger scientists for work that has contributed towards extending or deepening the fundamentals of electrochemistry, corrosion or corrosion protection, or towards their industrial application.
The Hellmuth Fischer Medal 2009 is awarded
Prof. Dr.rer.nat. Kaspar Andreas Friedrich, Munich
The award ceremony will take place on Monday, 27 July 2009, during the 11th Fischer Symposium in BenediktbeuernPreisverleihung findet am Montag, den 27. Juli 2009, im
up
---
Otto Roelen Medal
The Otto Roelen Medal is donated by OXEA GmbH. It is endowed with 5,000 Euro. The Otto Roelen Medal is awarded every two years for outstanding scientific work in the field of catalysis.
In 2014 the medal was conferred on
Prof. Dr. Harald Gröger, Bielefeld
The award ceremony: (from left) Prof. Andreas Liese (TU Hamburg-Harburg), Prof. Harald Gröger (University of Bielefeld), Prof. Kurt Wagemann(DECHEMA e.V.) and Dr. Heinz Strutz, (OXEA GmbH)
up
---
Carl Hanson Medal
The Calr Hanson medal was jointly instituted in 1986 by the Society of Chemical Industry (UK) and DECHEMA in memory of Professor Carl Hanson, who was Professor of Chemical Engineering at Bradford University. The Medal is seen as a life-time award to recognize scientists and engineers working in the general field of solvent extraction science and technology. It's awarded at three year intervals.
In 2014 the medal was conferred on
PRof. Em. Yizhak Markus / ISRael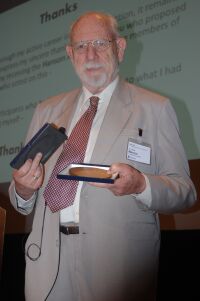 Carl Hanson Medal Awardees since 1986
Further information on ICSE and Carl Hanson Medal
up
---
Hochschullehrer -Nachwuchs-Preis
(Prize to promote up-and-coming teachers in higher education)
The Prize for up-and-coming teachers in higher education is presented annually to scientists whose lectures at the Lecture Meeting fo Up-and-Coming Teachers in Higher Education have been specially commended.
In 2009 this prize was awarded to
Pd dr. Andrea-Neil Unterreiner, Universität Karlsruhe
dr.-Ing. tobias bauer, Tu dresden
Dr. Malte kaspereit,
mpi für die dynamik komplexer technischer systeme, magdeburg
up
---