Our newsletters bring you the latest news, valuable insights from our experts, news on research funding and, of course, information about conferences. All that sorted by topic: You only get what you really interested in.
The newsletters covering the following topics. They will be published about once a week.

Bioeconomy and Biotechnology
Seaweed for facial creams or the decoding of the human genome: Our biotechnology newsletter takes a close look at topics where biology and technology meet. Where is biochemical engineering headed, what are the trends in food biotechnology? All the news, every week in your mailbox.
Chemistry and Chemical Engineering
How big is big enough with a chemical reactor? And how safe is safe enough? And what effects does the increasing digitization have on chemical processing technology? These topics and many more are covered in this newsletter once a week.
Pharmaceuticals and Medical Technology
The fight against cancer, the breeding of human tissue and the handling of nanoparticles: the field of pharmaceuticals and medical technology continues to deliver spectacular news. Our newsletter is published every 14 days and takes a closer look at the big and small trends in the industry.
Water, Resources, Energy and Climate
Hydrogen storing energy and dandelion that can be used to make car tires. Adressing climate change experts are looking for unusual sounding solutions. But that's not all: For example, our newsletter also deals with the issue of how phosphate recycling from sewage sludge can be improved – and many other topics.
Highlights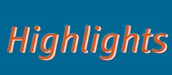 Too many newsletters? If you still do not want to give up all information from us, we recommend our monthly newsletter. Only the most important news in compact form!