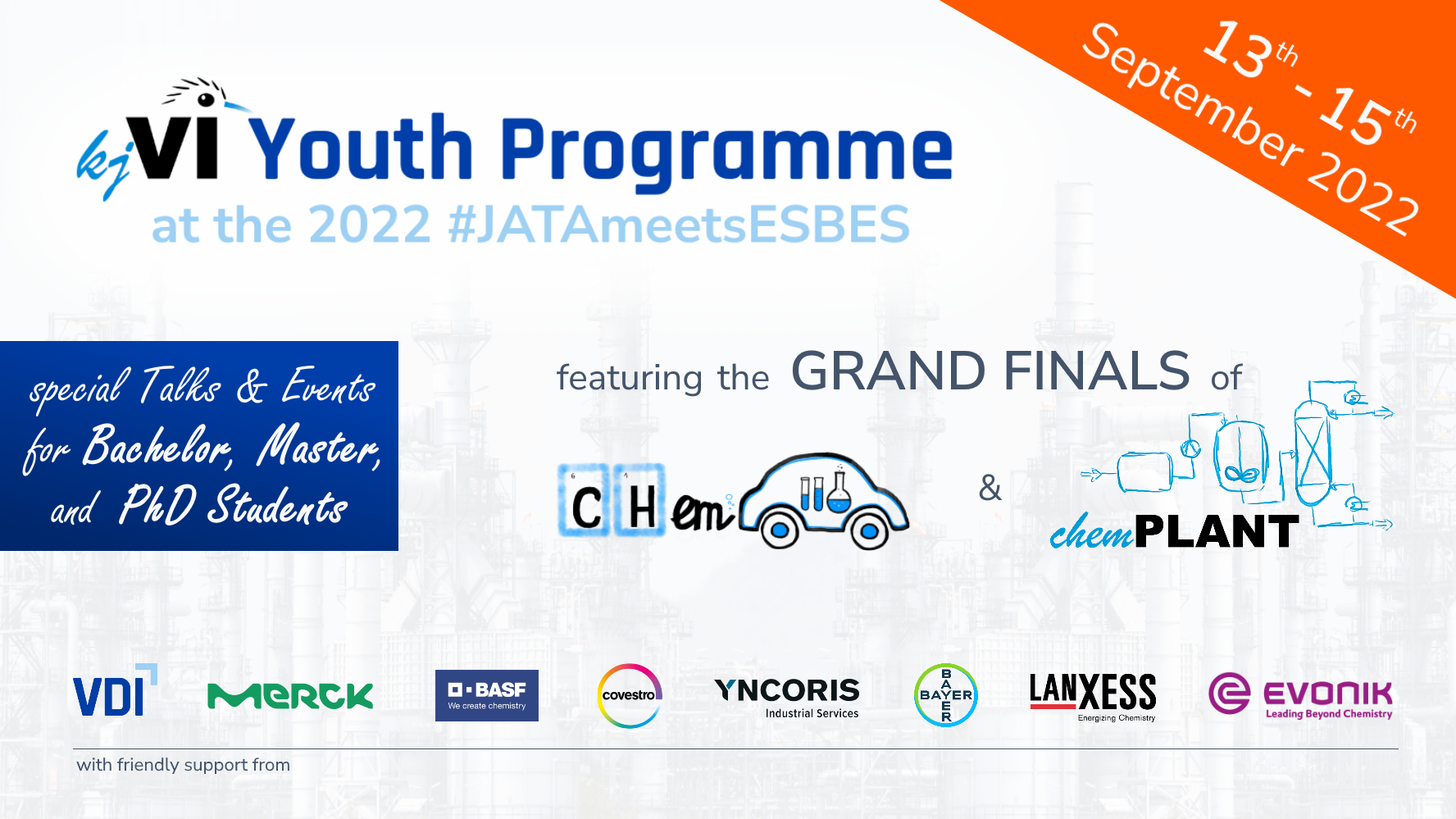 The kjVI Youth Programme is an event held as part of the annual congresses (the so-called Jahrestagungen) of ProcessNet and DECHEMA-BioTechNet 2022 and 13th ESBES Symposium taking place from 12th – 15th September. The kjVI Youth Programme (kjVI YP) is open to everyone but especially suited for graduate and PhD students in the field of (bio-)process engineering. With this programme we promote the exchange between students, industry, and academia. At the congress, specifically from 13th – 15th September, you will gain insights into the profession of young and experienced engineers.
In addition to the company lectures by our sponsors, there will be many opportunities to get in touch directly with the future employer of your choice and to visit the company booths. Furthermore, our speakers will provide plenty of valuable content on topics ranging from job applications to scientific publications. On top, you can watch the exciting finals of the ChemCar and chemPLANT competitions, taking place on Wednesday and Thursday during the lunch break.
The lectures and special events will be held in a hybrid format, giving you the opportunity to enjoy them from the comfort of your own home. We will provide Zoom links free of charge, therefore all you need is access to the internet.
However, nothing beats personal face-to-face interaction, so if you want to make the most of it, we would be very happy to welcome you in person to Aachen. To do so, you will need to register on the congress website. We have arranged some grants from VDI to provide financial support. In case you need support, write us an email: .
Registration for the entire conference will give you access to the scientific contributions and all other congress features, such as the poster party, the exhibition booths etc., so don't miss it.
The competitions (ChemCar and chemPLANT) and kjVI YP are organized by us, the kjVI (creative young process engineers). We are the youth group of the Society for Process and Chemical Engineering (VDI-GVC) of the Association of German Engineers (VDI e.V.). The kjVI have successfully organized such programmes at a national level many times before and on an international level we are organizing the kjVI YP for the second time.
The kjVI YP will feature:
Company presentations and exchange with our sponsors
Company workshops (non-hybrid)
Non-scientific lectures focusing on Career topics
Company booth rally (non-hybrid)
Quiz show Expert vs. Audience
Raffle with exclusive prizes (non-hybrid)
The schedule of the programme will be available here soon. Also, the links to the Zoom webinar will be published here prior to the event. For all the latest news, follow the Instagram handle @kjvi_vdi or the event on LinkedIn. We are very excited and looking forward to your participation!