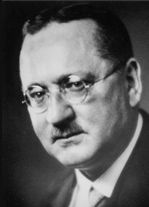 Dr. phil. Dr.-Ing. E.h. Max Fr. Chr. Buchner
Max Buchner was born in Bamberg on 10 July 1866. After graduating from high school in 1886, he took over the management of C. Buchner's publishing house for scientific and technical literature, founded by his grandfather, together with his brother Fritz, following the premature death of their father.

In 1892, Max Buchner left his parents' publishing house and studied chemistry at the Polytechnic University of Munich and the University of Würzburg, where he completed his doctorate in the field of electrochemistry under the supervision of Prof Arthur Hantzsch just six years later.

Even before completing his university career, Dr Buchner was closely associated with the chemical factory C. F. Boehringer & Söhne in Mannheim-Waldhof in the field of electrochemistry. From 1898 to 1912, Dr Buchner was head of department at this company. He then left the company and worked as a consultant chemist and expert for various companies, becoming the owner of Prof Dittrich's chemical laboratory in Heidelberg in 1913. At the beginning of 1917, Dr Buchner was appointed to the board of the scientific laboratory of the company E. de Haën, Chemische Fabrik List, in Seelze near Hanover, where he became a member of the board of the E. de Haën chemical factory, which was converted into a joint stock company, in 1922 and a partner and managing director of Ringgesellschaft chemischer Unternehmen mbH, founded by Riedel de Haën, in 1924.

After the First World War, Max Buchner co-founded the specialist group for chemical apparatus engineering in the German Chemical Society in 1918. As head of the specialist group committee for large technical apparatus, Max Buchner then organised the first ACHEMA in Hanover in 1920. This was followed in the two subsequent years by ACHEMA II and III in Stuttgart and Hamburg. The growing success of these new exhibition conferences prompted the Association of German Chemists to found DECHEMA as an independent scientific and technical society at its Annual General Meeting on 26 May 1926, as prepared by Max Buchner. Max Buchner founded "Die Chemische Fabrik" as the society's journal, which later became the current Chemie Ingenieur Technik. Max Buchner also founded the DECHEMA monographs in 1928.

In recognition of his services to the founding of DECHEMA and ACHEMA, the Technical University of Karlsruhe awarded Max Buchner the title of Dr.-Ing. E.h. in 1927, and the Technical University of Braunschweig made him an honorary senator in 1929. The Association of German Chemists awarded him the first ACHEMA commemorative coin in 1931.

His sudden death on 10 April 1934 at his family home in Mehle near Hanover took Max Buchner out of his busy life, which had been decisive for the success of DECHEMA and ACHEMA.